Scotchgard Water Repellent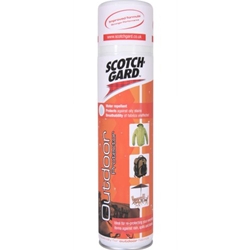 Great protector for outdoor waterproof fabrics and waterproof clothing and accessories, The following are ideal uses for this product:
Skiwear
Hunting
Marine Gear
Boots
Backpacks
Raincoats
Umbrellas
Boat Covers
Many more items
Frequently Asked Questions
Question
What can I use Scotchgard™ Water Repellent product on?
Answer
Ideal for camping, hiking, hunting & marine gear like tents, boots, backpacks,outerwear, raincoats, tarps, sleeping bags, boat covers, skiwear, & more! We do not recommend using around or getting overspray on suede, plastic, vinyl, and Plexiglas.
Question
Is this product odourless?
Answer
The product is odourless when dry. A slight odour is noticeable until dry. Drying varies based on the temperature and humidity. Under room temperature conditions, drying occurs within 24 hours. However, in cold environments, for example, in an unheated garage in the winter, dry time could take several days.
Question
How long does it take to dry?
Answer
Under average room temperature conditions (70 degrees F, 50% Humidity), most objects should dry in 24 hours. Always be sure to check item before wearing. Longer dry times could occur under the following conditions: colder temperatures, more humid conditions, or heavy applications. Providing for proper ventilation for the product will also provide a quicker dry time in most conditions.
Scotchgard Products are easy to use and won't change the look, feel or breathability of treated articles. In a messy world, Scotchgard Products make clean-ups fast and easy. Most spills simply blot up before becoming stains. Scotchgard Products are also 100% free of CFC's andozone-depleting chemicals.
Note: Please test all Scotchgard™ products on an inconspicuous area and allow to dry for 12 hours, this will enable you to check the colourfastness of the material and ensure that the spray has no advers effects.
Keep out of reach of children