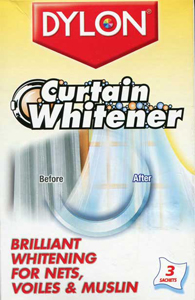 Have You Ever Wondered Why Your Whites Never Stay White?
Are your net curtains looking a little dull and lank? If so, why not try Net Curtain Whitener?
The specialist treatment boosts and whitens net curtains giving them a crisp look and fresh fragrance, also helping prevent the growth of mould and mildew.
Net Curtain Whitener can be used on all types of net curtains including voile and muslin.