Scotchgard Rug Carpet Cleaner, with Scotchgard Protector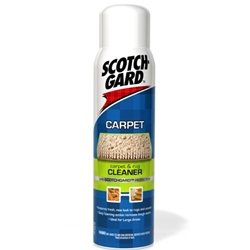 Scotchgard Rug & Carpet Cleaner is perfect for everyday cleaning, but with the added advantage of leaving behind anti-soiling protection.

As well as removing even tough stains from rugs and carpets quickly and easily, you'll help avoid future staining with a layer of Scotchgard™ Protector
Returns a fresh, new look to rugs and carpets
Deep foaming action removes even tough stains quickly and easily
Leaves behind Scotchgard™ anti-soiling protection
Perfect for either spot cleaning or large area applications
high-traffic areas
full-room cleaning
cleans and protects throw rugs, floor mats,
Cleans entryway carpets,
Cleans Boat and Camper Interiors
514ml can
1 x 514ml will clean a 120sq.ft area (10' x 12')
Scotchgard Products are easy to use and won't change the look, feel or breathability of treated articles. In a messy world, Scotchgard Products make clean-ups fast and easy. Most spills simply blot up before becoming stains. Scotchgard Products are also 100% free of CFC's and ozone-depleting chemicals.
Note: Please test all Scotchgard products on an inconspicuous area and allow to dry for 12 hours,
this will enable you to check the colourfastness of the material and ensure that the material is not affected in any way.
Keep out of reach of children.